I recently started a collection glass pipes after finding one at a local tobacco store.
My first pipe was plain, boring, and a pale pink.
Not super exciting.
I later came across a shop on Etsy that creates beautiful hand-blown glass pipes that are far from plain and boring.
Fat Buddha Glass has a wide selection of quality glass pieces for folks who like to collect glass pipes, and for those who like to unwind with a smoke sesh.
The delivery of the two pieces that I got was very fast, and the packaging was discreet and plain. The pipes were well wrapped in bubble wrap, so they made it safely through transit.
The first pipe I got was a 5″ heavy Dichroic pipe, and it weighs 113 grams and is made with extra heavy wall borosilicate glass.
The design on this pipe is mind-blowingly intricate and elegant with all of the yellow and pale blue swirls in it, as well as the sparkly glittery core running down the center of the pipe.
I cannot express to you how beautiful this pipe is from all angles.
The airflow is quite good, and I did not feel as though I was having to suck into the mouthpiece too hard in order to have any air flow.
The other pipe is a heavy fumed swirl design with blue detailing at the mouthpiece.
Please don't laugh at me, but the colors of this particular piece reminded me of Flounder from The Little Mermaid, so I named this pipe (errr.. snarfblat) Flounder…
This pipe is about 4 1/2″ long, and is also made out of extra heavy wall borosilicate glass. The air flow on this particular pipe isn't quite as good as on the blue pipe.
It takes a bit of work to get a good draw. The mouthpiece hole is smaller than the hole on the blue pipe, so I'm figuring that's why.
I asked if the owners would be willing to let me add in a step by step explanation of the creation process, and they were kind enough to send the following paragraph!
Here is how the pieces are made, but first here are the tools we use: a torch with a flame that can reach over 3000 degrees and allows us to change the flame chemistry, graphite tools & pads, a kiln, special glasses to protect our eyes and allows us to "see" the flame and American made glass rod and tubes. This is important because American glass has a higher standard of quality than glass made over seas.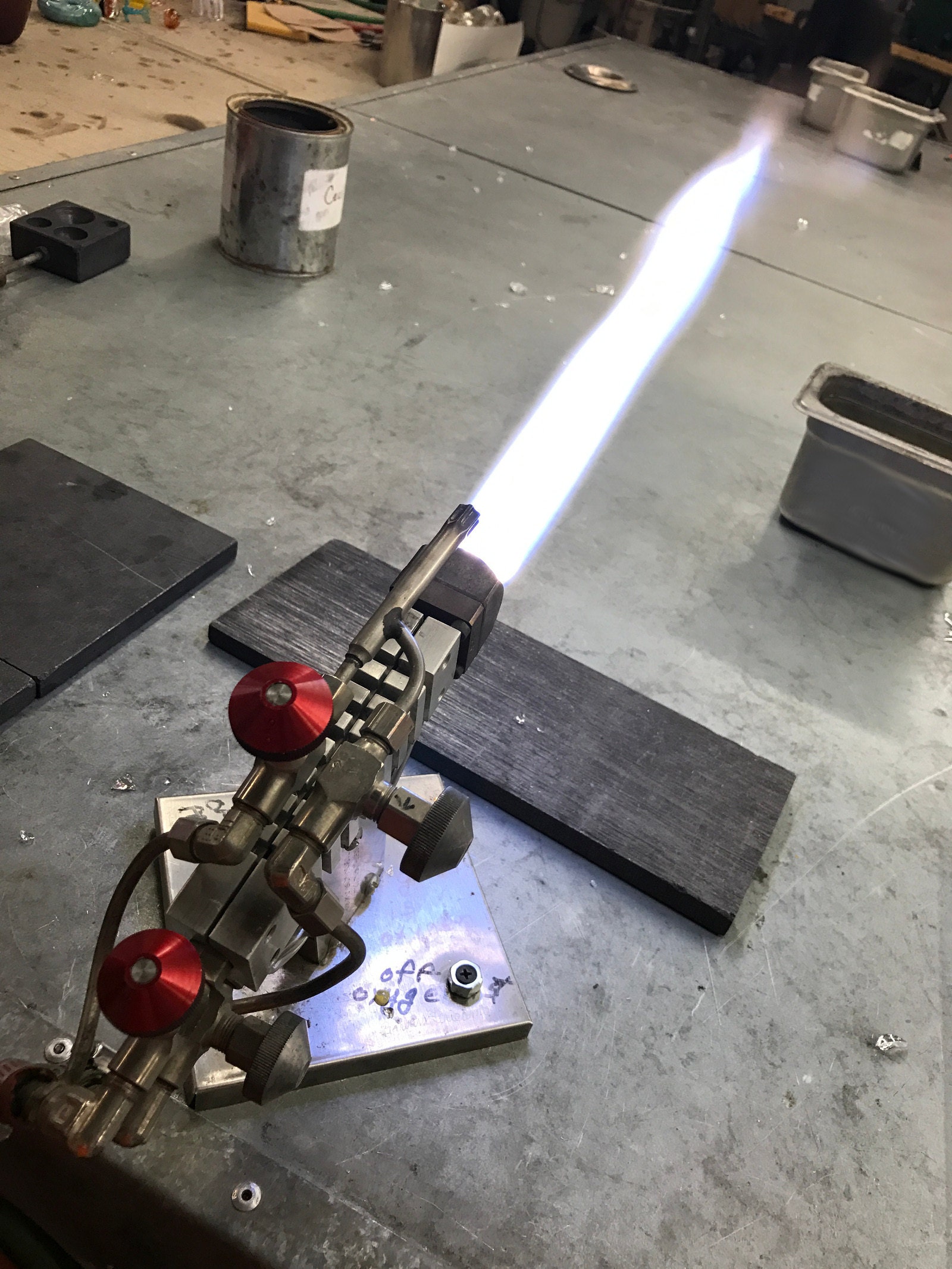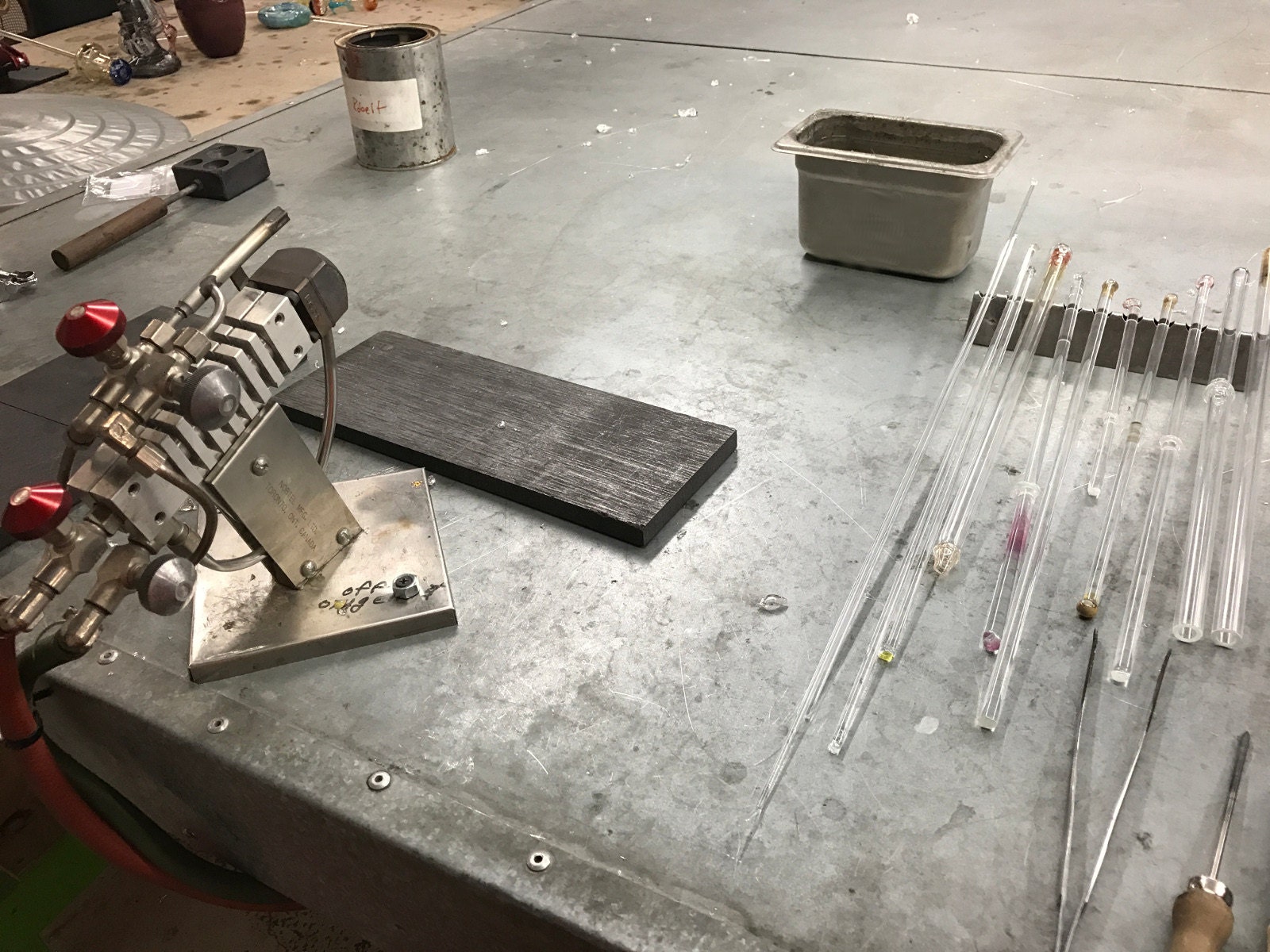 1st- We'll create a "blank" which decides how big the piece will be. We usually make blanks ranging from 4-5″. At the end of the blank we'll attach a blow tube.
2nd – After we create the blank we'll add the color using colored glass rods and/or we'll "fume" the piece with .999 fine silver and/or 24k gold. "Fuming" is what makes a piece change colors after usage.
3rd – After we heat certain sections of the blank we'll be able to shape the piece. Once the end of the blank is heated to a molten state we'll be able to use the blow tube to create a bubble which will become the bowl.
4th – After we've created the design and then shaped the piece we'll put it in a kiln overnight. What this does is let the piece cool down from over 1000 degrees to room temperature. This is an extremely important step because there is a lot of stress in the glass after it has been "worked" and putting it in the kiln and annealing over night causes the molecules to realign and give it the strength it needs. If we didn't do this step the pieces would be susceptible to breakage very easy.
Each one does have some different steps that will make it unique but these are the basic steps for creating a pipe.
It's amazing to think about how much effort and detail is put into each piece.
It makes you really think about how you really are using a piece of art each time you pick up your pipe!
I currently have mine displayed on my bookshelf with my fine china dolls and glass figurines because I love them so much.
The prices of these pieces are very affordable too, which makes them even more appealing to the consumer.
The yellow pipe was only $17.99 and the blue pipe was $19.99.
To see more pieces from Fat Buddha Glass, including water pipes and bubblers, go check out their website, which I will link below.
Fat Buddha Glass On Instagram
(Go give them some love!)
A huge thank you to Fat Buddha Glass for sending me these two beautiful pipes!
I absolutely love them and can't recommend the shop enough!
I hope that you all are going to have a great weekend and I will talk to you all in my next post. Please remember to LIKE this post and FOLLOW my blog, because it really means the world to me!
Until Next Time
Peace, Love, and Glitter
❤ XOXO ❤