A good highlight can light up your whole face in less than a minute. The only question is, what highlighter do you pick? There are dozens if not thousands of different options out there, but I found some pretty little ones that are perfect for releasing your inner  magical mermaid.
They're MERMAZING (if you catch my drift.) Ok. I'll stop making water puns now…
These little guys are even designed to look like mermaid scales! (Although you can see where I swatched one and rubbed off the design…)
They're very pigmented, and have loads of fine sparkle to them, so it doesn't look like you just glued glitter to your face.
I got pans of all eight highlighters to test–sea glass, mermaid, sunfish, moon jelly, coral, star fish, and sea serpent.
Each highlighter has a base color that shimmers in a different way depending on the lighting…as you can see there's one with a purple hue and one with a golden hue, and one with a green hue. This may seem strange but the green-to-pink hued highlighter (Sea Glass) is my personal favorite and I've been tapping into that one a lot recently. I feel like it shows up best on my skin.
I also wanted for you guys to get to know the shop's owner, Allison, a little bit better, so I asked her three questions about her shop and the makeup she creates and sells.
What Inspired You To Start Your Shop?
"I actually started learning to make makeup when I hit pan on my favorite discontinued Too Faced shadow and couldn't find a dupe for it. So after a bunch of research, I ordered some pigments and started playing around.
Next thing you know, I was putting up an Etsy shop to share the colors I'd created."
What Is Your Favorite Thing About Running Your Shop?
"My favorite thing about running my shop is sharing my passion with people.
I got tired of being let down by high-end cosmetic brands and I wanted to show the rest of the makeup lovers what quality really was.
I love when someone falls as in love with my stuff as I am."
What Is Your Favorite Item That You Sell In Your Shop?
My favorite item is my Sea Glass highlighter.
I love it's holographic shift. It's BEAUTIFUL on, wearable by a ton of skin tones, and I've never seen anything else like it anywhere.
Allison also creates a rainbow highlighter called the Siren Spectrum Highlighter for all of you rainbow highlighter junkies out there!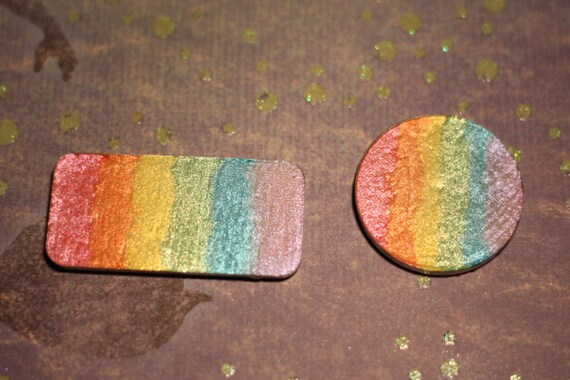 These highlighters comes in a few sizes, a 36mm pan, a 26 mm pan, and then for the true mermaid, a 36mm pan in a cute little clamshell compact!
Allison also sells 16 different colored eyeshadows, all of which are named for mermaids and their watery world, from the deep turquoise shadow called Undertow, to the lilac Littlest Mermaid, to the deep plum Urchin shadow.
All of these shadows, like the highlighters, are pigmented and full of sparkle.
This makeup makes me want to unleash my inner mermaid…with that being said, I want to say something really quickly that's a tad off the subject.
One of my friends and I are planning to go to Katsucon over at National Harbor later this month if we can get our cash together to buy the tickets….since folks dress up at this event, I decided to cosplay as a hipster version of everyone's favorite mermaid–Ariel! If I do go, I plan on using these highlighters for my makeup, as well as wearing the cute little pin that Allison included in my package, so as to rep the company! Even if I don't end up going, I'll still be doing posts on my Instagram account (pin included in my photos!) so everyone will know what makeup us mermaids wear!
I'm also planning on doing a longer blog post about this cosplay project….
OKAY SO–FINAL RUNDOWN
These highlighters are
•pigmented
•sparkly
•shiney
•beautiful on the skin
•long-lasting
•and magical.
If you are looking for a fun new highlighter to use, go give this shop a visit.
Click here to go to Mermaid Cosmetics Online Shop
Click here to visit Mermaid Cosmetics on Instagram
Click here to visit Mermaid Cosmetics on Facebook
A huge thank you to Allison for letting me review these beautiful highlighters! The love and care that she puts into making these really shines through! (Ok….that's the last pun of any kind for this post!)
Until Next Time
Peace, Love, and Glitter
❤ XOXO ❤