Unicorn horn makeup brushes took the internet by storm last year. Everyone in the makeup community seemed to be posting about these brushes. They were, simply put, MAGICAL.

I did a little searching online and found these wonderful makeup brushes online.
Originally, these brushes were sold from the company UnicornLashes. This company is based out of the UK. The brush set sold out (and is still sold out) and sold for a whopping £45, which roughly equals about $55 according to Google's conversion chart. Pricy, yes. But clearly folks were all about it, as these brushes sold out in less than 12 hours each time they were put up on the website.
But let's take a second for a reality check….
Not everyone wants to go and spend that kind of cash on makeup brushes, no matter how cute they are.
Thankfully, there's an etsy shop that has replica unicorn brushes that are just as magical, and won't leave such a painful dent in your wallet.
ShopToxicMoon sells a set of 7 unicorn brushes for only $30.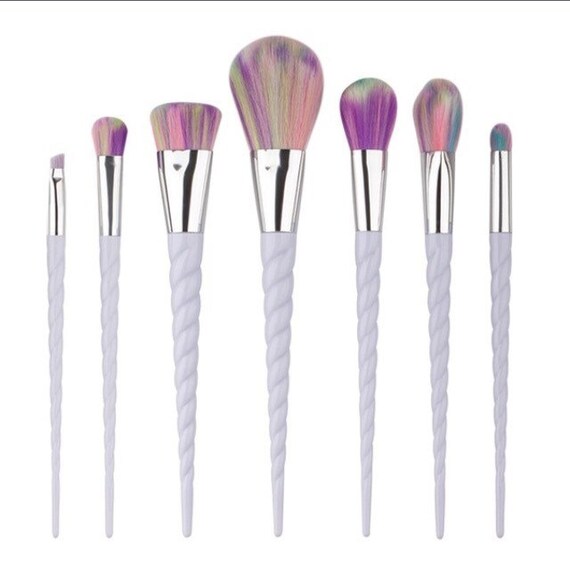 I actually like the look of the fibers on these brushes a lot more than the original brushes, because the colors of these are more pigmented, so they won't get as dirty looking quite as fast as the pastel shade of the original brushes.
This shop also sells a bunch of other fun items, like girly choker sets, necklaces, themed mystery boxes like alien and unicorn mystery boxes, as well as custom decoden cases!
So if you want some unicorn brushes so that you can magically slay all day, go check out ShopToxicMoon. I'll add the links to their shop and social media sites below!
ShopToxicMoon Etsy Shop
ShopToxicMoon Facebook
ShopToxicMoon Instagram
Until Next Time
Peace, Love, and Glitter
❤ XOXO ❤
Please remember to LIKE this post, and click that FOLLOW button!