This weekend I will be featuring yet another small online company on my Holiday Gift Guide, which is a new series on my blog that features reviews of small online companies in hopes that more people will shop online for their holiday presents.
The company that I will be talking about today is EthnoKolor.
This company sells beautiful handmade bracelets that benefit a great cause.
I was sent a set of three beautiful handmade roll-on bracelets.
These bracelets are made by local artisans in Nepal and proceeds from the store go to help Nepalese orphans.
The charity, Mayaa Nepal, which you can find out more about by clicking HERE, also provides schooling, libraries, clothing, health and dental care and health awareness in Nepal.
I really love charities that help orphans, as I was an orphan when I was a baby up until my adopted Mom got me when I was 8 months old.
Each bracelet is hand crocheted, and the entire process of making one of these glass bead bracelets takes about two hours. I feel as though the amount of time and effort put into each bracelet really shows.
 You can purchase a set of three bracelets for $15, two bracelets for $10, or a single bracelet for $6.
My Mom and I both love these bracelets because they are sturdy, beautiful, and fit really well around our wrists.
My Mom actually is the wrist model for the photos in this blog post, because she really likes wearing these!
The white, gold and navy blue bracelet is perfect for me, because I am a huge lover of the Navy! It will be perfect for my trips to Annapolis.
These bracelets give off a very ethnic," world-traveler" vibe in my personal opinion and would be a great present for somebody with a bohemian sense of style.
The shop also sells beautiful wooden bangles that are hand-painted in Ukraine, along with other accessories, apparel, and home décor items.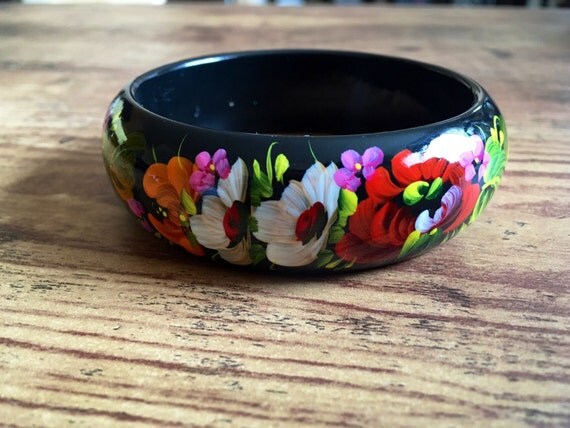 You can also find many other beautiful gifts on their online store, which I will link to HERE.
Please also take a second to follow EthnoKolor on their social media sites!
Facebook
Pinterest
Twitter
Instagram
Please remember to consider shopping small this holiday season, and also consider buying from a company that gives back to those in need!
Also please take a second to give my blog a follow to keep up to date with my Holiday Gift Guide series!
Until Next Time
Peace, Love, and Glitter
❤ XOXO ❤