Halloween is almost upon us dear readers, and I figured that it is time to do a shop review with a Halloween twist to it!
If ya'll remember, I've done a couple blog posts about the shop
JerseyGypsyEtsyShop.
Renee just added a bunch of fun necklaces to her shop for Halloween, and sent me a beautiful sugar skull necklace, and a
bonus sugar skull print wristlet to feature on my blog!
This was super exciting, because I LOVE sugar skulls!
I especially love doing sugar skull makeup around this time of the year…
For example….

Just in case you guys didn't know, sugar skulls play a very
important part in Mexican tradition.
Sugar Skulls, or Claveras are used to celebrate the Day of the Dead, also known as El Dia de Los Muertos (November 1st, which is also All Saints Day.)
People make sugar skulls to represent ancestors who have passed away, and they paint these skulls with bright colors and add foil, rhinestones, glitter and flowers, carve the name of the deceased onto the forehead of the sugar skull and then place the skull on the grave of the deceased person.

~~~~
Now let's get started with the necklace!
This is the Sugar Skull Girl Cameo Pendant.
She is set in a beautiful bronze bezel and comes on a matching bronze chain.
Her face is so pretty and delicate, and she has three bright flowers in her hair and her hair has a few little curly pieces hanging down onto her face.
When I wear this necklace, it hits about an inch above the middle of my chest.
The image is about 1 inches big, and the entire necklace is
about 1 1/2 inches big. This includes the bezel!

I love wearing this necklace with a plain black top so that it really will stand out and pop, because the color contrast of this necklace is just fantastic.
Next up is the wristlet.
I had no idea that Renee would be sending this to me, so I
was very excited when I opened it!
Renee hand-makes these wristlets herself.
I already have one that she made, and it is an orange Mad Hatter themed wristlet, and I have loved that wristlet to bits!
As you can tell, the colors of this wristlet are very vibrant and fun!
That is exactly how sugar skulls should be.
I love how their eyes are heart shaped!
❤

I just know that this wristlet will be constantly in use, because I am one of those people who will wear an item with sugar skulls on it
any time of the year!

It also has this sweet little metal tag on the zipper that states that it is a handmade item! I seriously love to use handmade fashion items.
I think that it adds so much more interest to an outfit to have an original item as part of your outfit!
I also have added into this post a photo of the other style of Halloween necklaces that Renee has in her shop…
They are cameo necklaces, and she has several different designs of these necklaces each with a different cameo shape (am I saying that correctly??)….from a heart, to a skull woman, to a skeletal hand, there are quite a number of options from which to choose!
This skeletal hand was my personal favorite of those!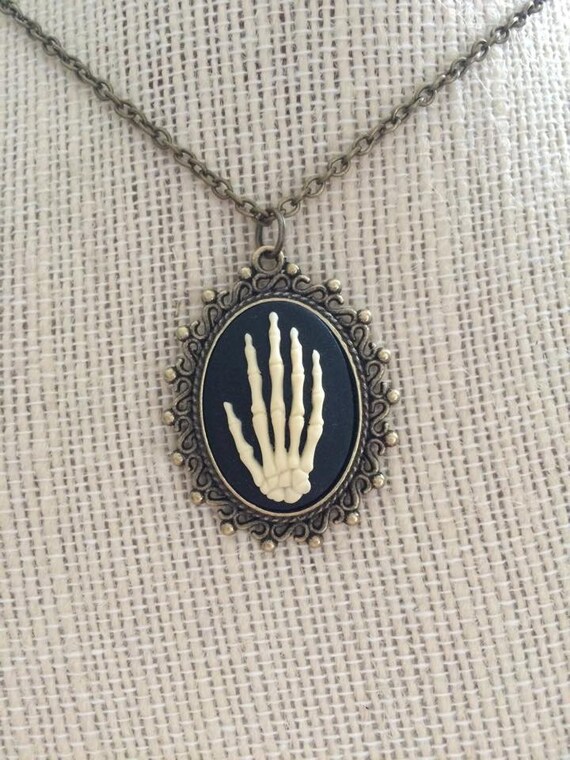 I hope that you all will go check out Renee's shop.
I'm going to add the link to my other blog post about her shop, as well as links to her shop, and different sections of her shop.
LINKS
JerseyGypsyEtsyShop
Bracelets
Necklaces
Blog Post–That's A Wrap! (Wrap Skirt, That Is.)
Blog Post–To Wonderland And Back Again
Renee's Blog! (FOLLOW IT!)
I just want to thank Renee for everything she's done for me and for my blog! She is really a great person to work with and I love her shop so much!
So go check out her shop!
🙂
Thanks so much for reading my blog and for following me!
If you aren't a follower, please take a second to click that FOLLOW button at the very top of this page!
Until Next Time
Peace, Love, and Glitter!
❤ XOXO ❤