I love NYX eyeshadows quite a bit, and I keep wanting NYX to release more eyeshadow palettes. It seems as though my prayers to the makeup gods were answered. NYX just released three brand new eyeshadow palettes called the Rocker Chic palettes.
Now let's be serious for a second.
These palettes are drop dead gorgeous and are totally my style.
There are three palettes, each encased in a palette that is complete with metal studs to give it that edgy rocker vibe.
On the inside there are five shades of eyeshadow to
create multiple looks with.
The names of the palettes are as follows:
California Dreaming (brown packaging),
Heart Of Gold (pink packaging),
and Tainted Love (black packaging).
I think that the pink palette (Heart of Gold) will be my choice when I go to purchase one of these, as it is a rose gold themed palette….

However I am really drawn to the Tainted Love palette because of that gorgeous maroon shade…
And for those of you who are interested in the colors in the California Dreaming palette, here they are….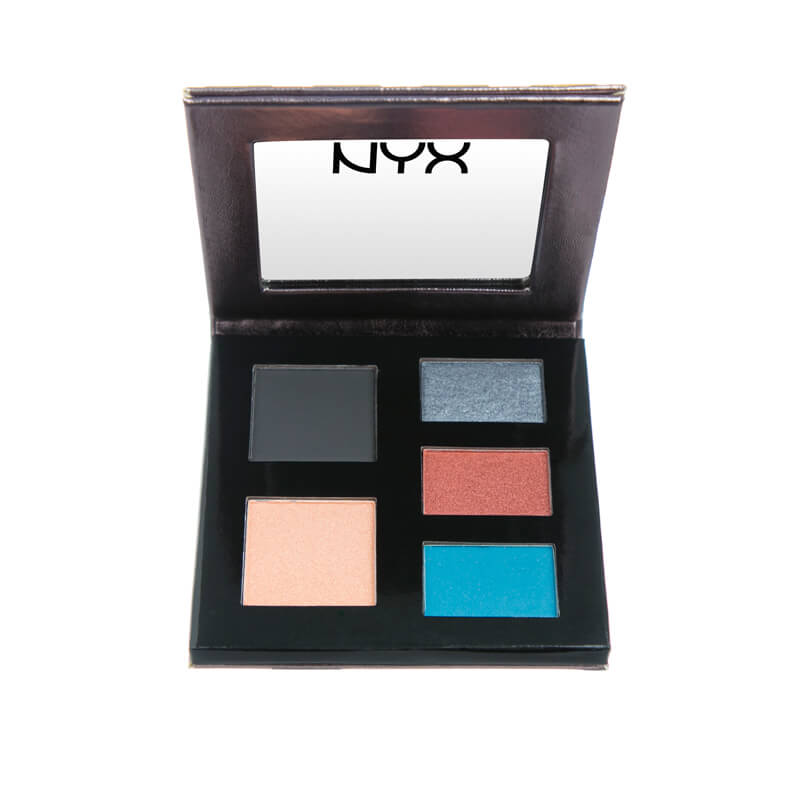 As far as price goes, these retail on the NYX website for $18, which
is kind of up there if I am being totally honest.
But from what I have seen on various Youtube reviews, they look as though they are pretty big, so you would be getting more eyeshadow for your money then you would from the Love In Paris palettes.
If you have tried these palettes, let me know what you think! I'm super curious to know! Also, if you are just coming across my blog and have not yet subscribed, please take a second to click that
FOLLOW button at the top of the page!
Thanks for taking time to read this post!
🙂
Until Next Time
Peace, Love, and Glitter
❤ XOXO ❤