I would normally start off a Hobbit related blog post by saying something like
"Ya'll probably know that I LOVE the Hobbit."
but I've already said that in every single Hobbit post that I have written.
So I'm going to say something new…..
Ya'll probably know that I love handmade things! (and the Hobbit…)
So today I am going to be talking about the adorable little Sons of Durin knitted dolls that I received from JessWorks on Etsy.


I am completely in love with these little guys, and I am in awe at the fact that they are made by hand, because the level of detail of these dolls is amazing.
I'm going to tell you a little bit about Jessica and how she makes the
dolls and figures in her shop.
~
She starts by picking out something to knit.
Sometimes, her creations are requested by her friends (this is why she started making Hobbit themed dolls!)
She then does some sketches of what she wants to make, noting that
"Sketching is really important on the more detailed dolls like the Hobbit series because they have complicated outfits and hairstyles…"
~
Once she has a solid sketch, she begins knitting, and writes down her pattern as she goes so that she can replicate the figure, or modify it for the size doll she is making.
She says that
"The clothing and hair tend to take the longest in the creation process because they tend to vary the most between dolls."
Once Jessica is finished, she takes photos for her shop, as well as for
extra reference for the future.
Each doll is finished off with a little stand, so that they can be displayed!
~
As well as making Hobbit characters, Jessica also has dolls for other fandoms….these include Sherlock Holmes, Finn and Jake (Adventure Time), Black Widow (Marvel, Avengers), Daryl Dixon (The Walking Dead) and cute
little fairies and a mermaid.
She also makes little knit animals as well.
Jessica's shop also offers a variety of jewelry, including Kumihimo necklaces
as pictured below.
Please note that the following photo belongs to Jessica.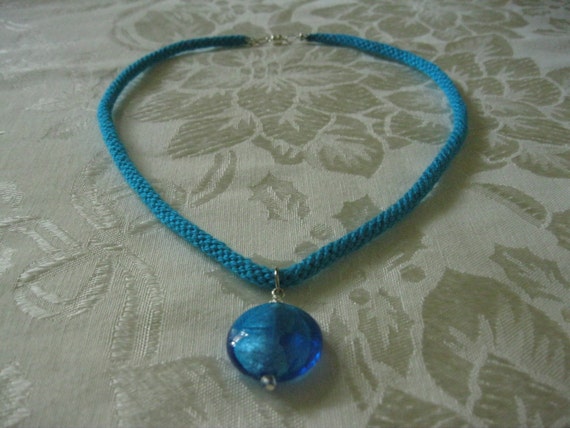 She also sells Viking Knit bracelets, which I think are very pretty because they are made from woven colored wire.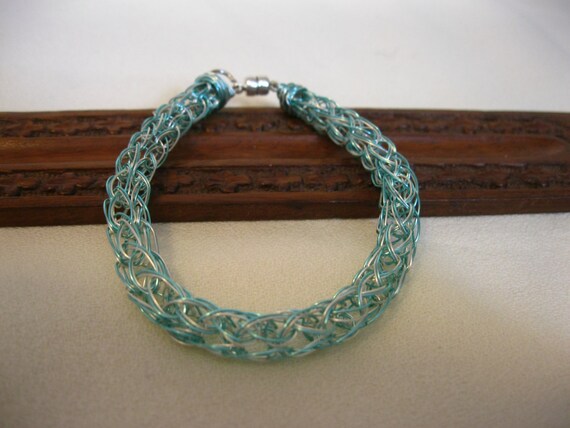 Now onto the details of these dolls, because I was totally blown away with how accurate they were to the characters in The Hobbit movies.
I received Thorin, Fili and Kili, in teeny weeny form!
~
Let's start with Thorin.

Thorin is majestic, even in doll form!
I love how he has his grey curly hair, and the hair beads are in their correct place.
His little outfit is so perfect, and includes the fur trim that you see on his coat.
Even his boots have the wrapping on them like they do in the movie.
I was happy to have one of my best nerd friends over recently, and she looked over each doll and was so impressed with the accuracy of the outfits!
Next up is Fili. 
I actually think that Fili is my favorite doll….
His blonde hair has the correct braids in it, and even his little mustache is braided and complete with silver wire beads!
The tiny little braids are probably my favorite thing about Fili.
His outfit is also trimmed with light fur, and he has on a little brown coat and tiny belt (which you can see in the first photo at the top of this post.) Again, the level and attention to detail is just wonderful. 
Finally, if you have Thorin and Fili, then you MUST have Kili.
The youngest son of Durin does not have a beard or mustache….he's the odd dwarf out with his stubble, and the doll represents that so well with stitched on stubble.
Kili has his messy brown unbraided hair with a single clip
holding parts of it back, just like in the films.
He's the wild-child of the group.
He probably doesn't have time to be braiding his hair!
He also has his long jacket with the small hints of fur trim, blue tunic (with the gold stitching on the sash of the tunic!) and he even has his
little gauntlets on his forearms.

As for size, here is a photo so that you can see how they fit in my hand.
They are three and a half inches of precious, hand-knit fun!

One does not just separate Fili and Kili….
I just love these little guys to pieces!
They are just so perfect, and the level of care and detail really is impressive.
Any Hobbit fan will freak out over these guys!
So I hope that you go look into JessWorks.
LINK TO THE SHOP
JessWorks on Etsy
Knitted Dolls
Knitted Animals
Kumihimo Necklaces
Viking Knit Bracelets
Until Next Time!
Peace, Love, and Glitter!
❤ XOXO ❤