My Little Pony collecting has been a love of mine for the past year.
I recently got a custom vintage pony from
TheVicness on Etsy.
I love the ponies from this shop, and I got to learn about how the ponies are made, so that made the pony that I received even more amazing.
I got this little cutie–baby Cotton Candy!

Look at that face!
It's just heartwarming to look at!
Let me tell you–the creativity that went into this pony is some of the best I have ever encountered in my life (if not THE BEST!)
I love this pony way more than the ones you can find in the stores.

The shop's owner, Vic, agreed to let me give ya'll a little behind the scenes peek at how she makes these pretty custom ponies and I am really excited to share some of this with you guys!
~
Vic started making custom ponies about 10 years ago.
" I found a Bow-Tie with rubbed away symbols and a very severe hair cut in a charity shop. I felt sorry for it and took it home. This was before I'd even discovered the world of customizing ponies on the internet. I just wanted to rejuvenate it somehow so I painted some circles on her with nail varnish and used some
unraveled chord for the hair. " 
She soon found the world of MLP fans, collectors, and customizers, and was inspired by the ponies she saw online.
~
Most of you are probably wondering why she chose to make the ponies
black with bright contrasting symbols?
This is where things get super nerdy and I love it because it combines two of my favorite things–My Little Pony and my
favorite video game series character–Link, from The Legend Of Zelda!
"The 'Dark Ponies' came about because I was playing 'Ocarina of Time' and ran into 'Dark Link'. The idea was simple; black body, darker hair and a white symbol, same size as the original."
(My little nerdy mind just blew into a billion pieces!)
 Vic starts with what is known as a "bait pony".
Basically, it's a really ratty pony that needs some serious TLC!
The original hair is stripped from the pony, so that all that's left is the body.
Then Vic starts to paint thin coats of black acrylic paint on the pony until it is totally coated, and then she proceeds to the next step–painting on the designs.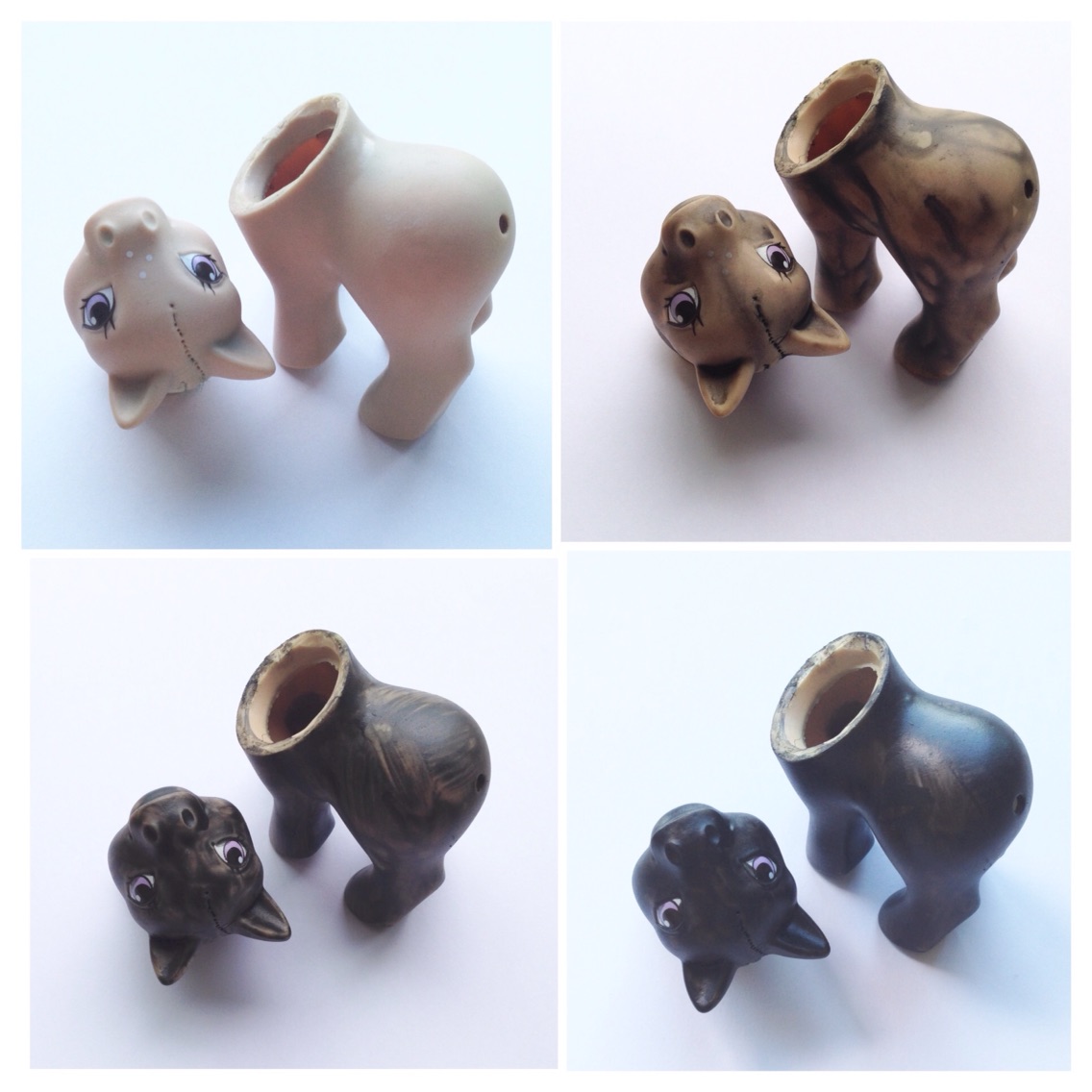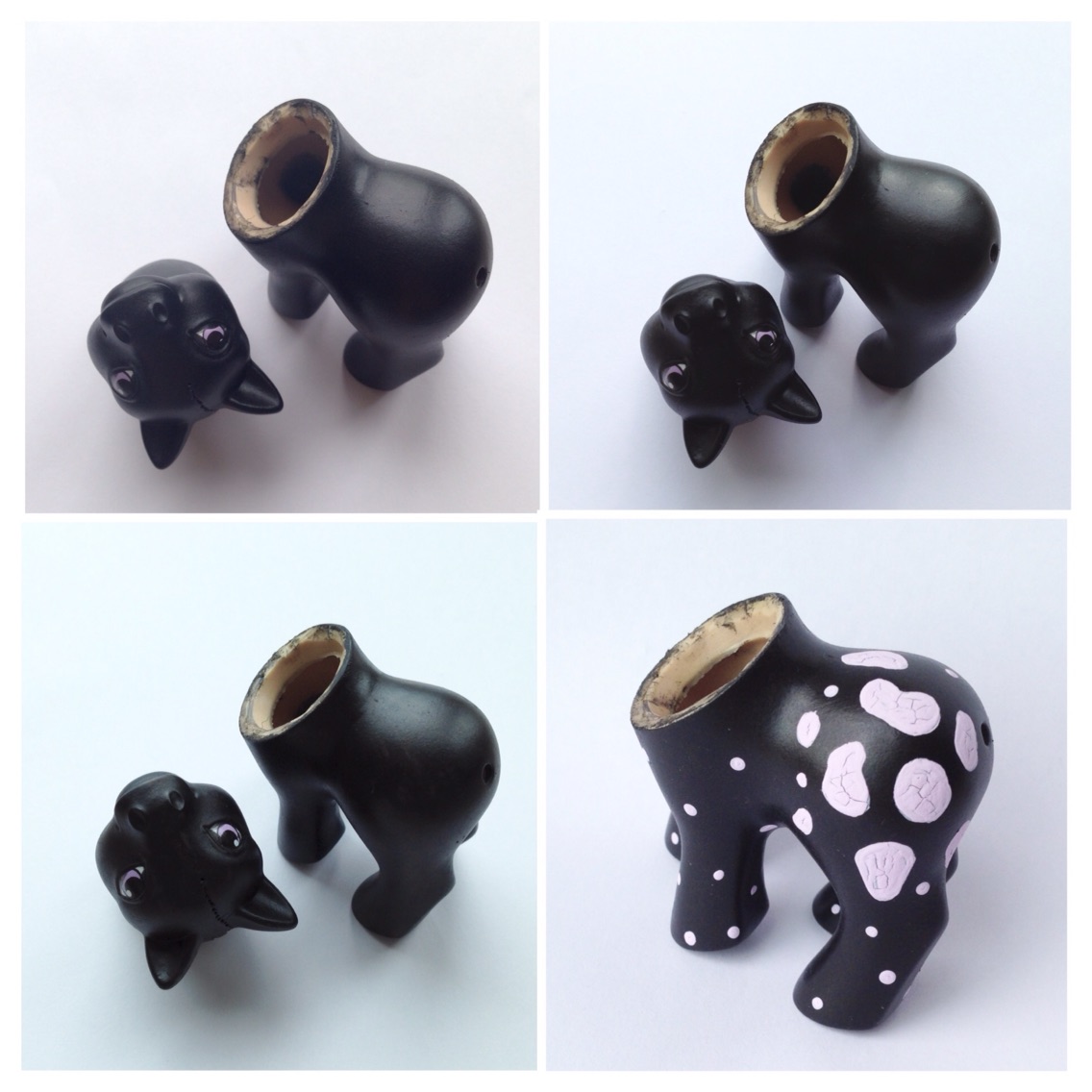 Vic freehand paints the designs on the ponies, and says
"it just comes more naturally that way."
I can totally understand her point of view on freehand painting!
That's how most of my makeup looks are done.
Once all of the designs are painted on and fully dried, she adds the hair, which is nylon hair, due to how easy it is to work with, as well as looking great on the finished product!
The hair is threaded through the holes in the pony's head until
all the holes have hair in them.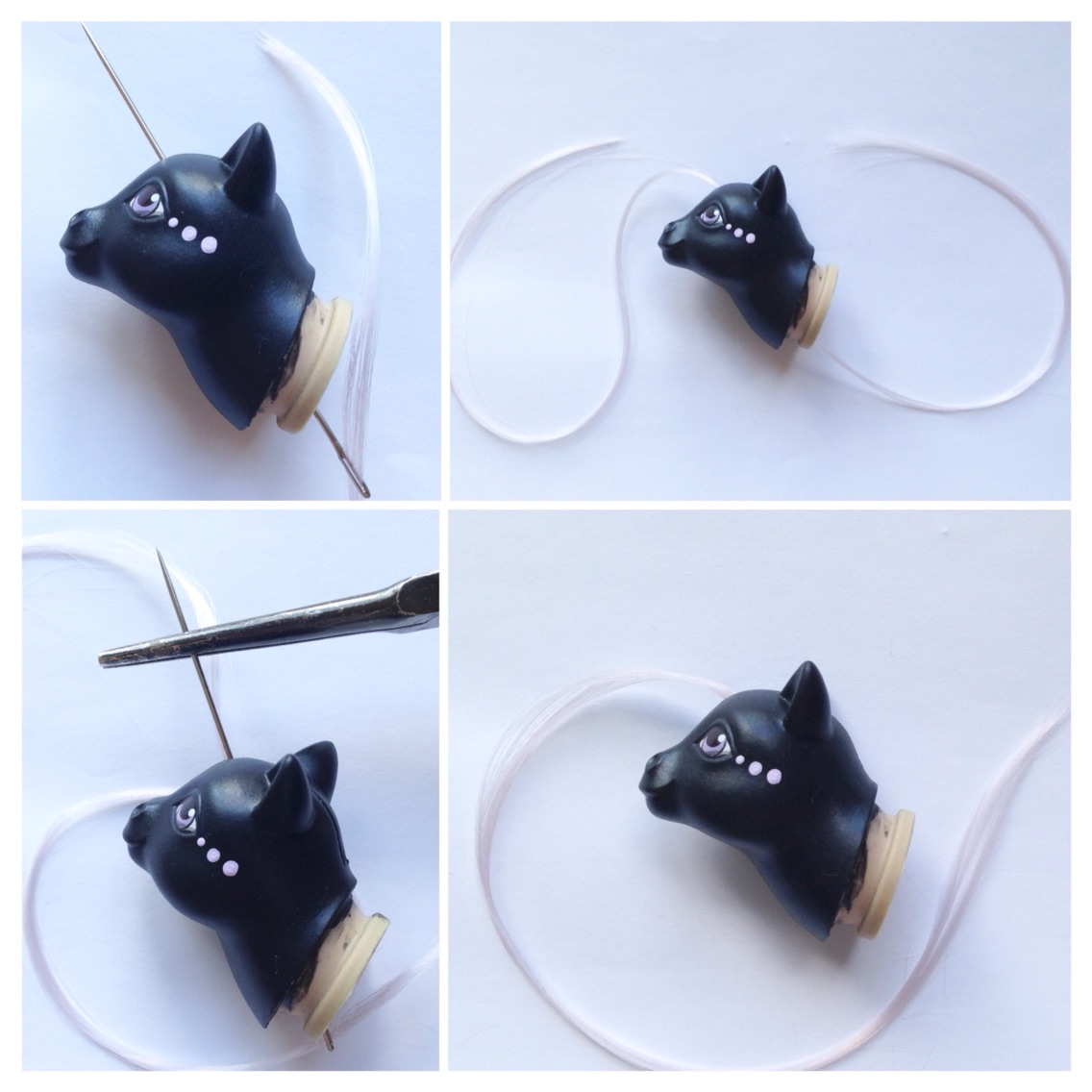 Then the hair is braided (which is a look that is very unusual for MLP!) and finished off with some tied thread, and a dab of glue to give it some lasting power.
One cool touch that Vic gives her ponies are dress pins!
See those pink pearls?
Dress pins.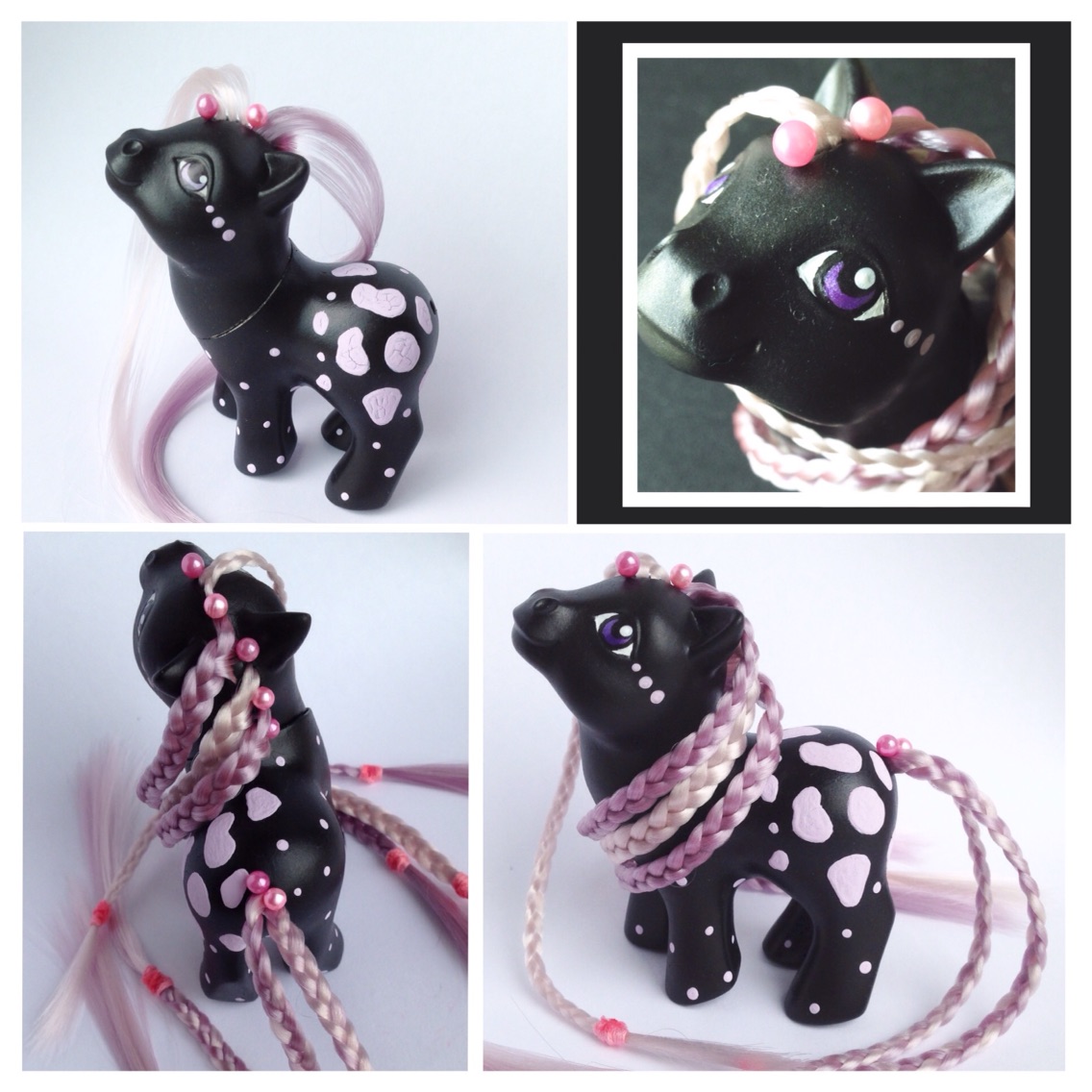 "I always use dress pins in the mane and tail too as I think it adds a
little extra special touch." 
I truly believe that a pony can never be too dressed up, so I absolutely
love the dress pins!
I also want to share with you guys some of the other customs that Vic created, because they are so pretty!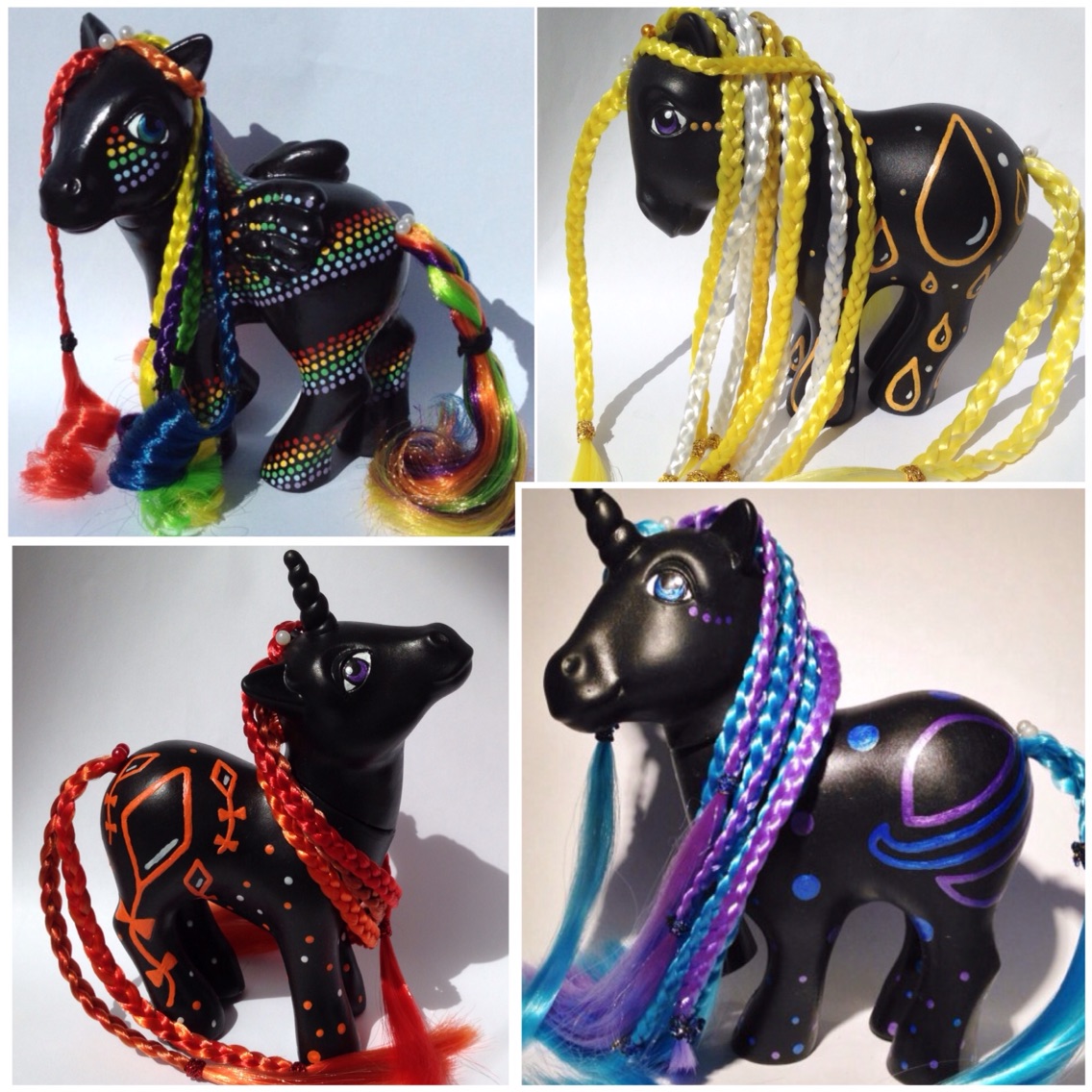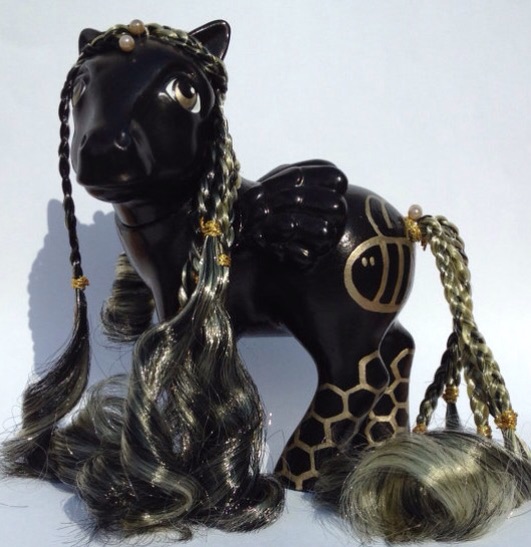 It is very clear that a lot of hard work goes into each pony that Vic creates.
I am so glad that someone has the creativity and passion to make such beautiful ponies.
~
But the creativity does not end there!
YAY FOR MORE CREATIVE STUFF!
(I could seriously talk about things like this forever.)
As well as making the ponies, Vic also makes a wide variety of  Perler Bead figures and fridge magnets!
Since I'm a huge Legend of Zelda fan, she sent me this precious Zelda magnet!
(Geeking out! Geeking out!)

  She also has other Legend of Zelda Perler Bead figures as well as Disney Princesses, Gandalf (LOTR), Marvel characters, Supernatural characters, and Doctor Who!
She also sent me a little bag filled with these origami stars!
How she made these, I can't tell you.
All I can say is that they are really fascinating to me because they are so little!
I have seen these on mobiles that she sells in her shop, and they really are a lovely touch to the mobiles!

Another thing that she has for sale will definitely be a favorite for any comic book lover–custom giftwrap bows made from comic book pages!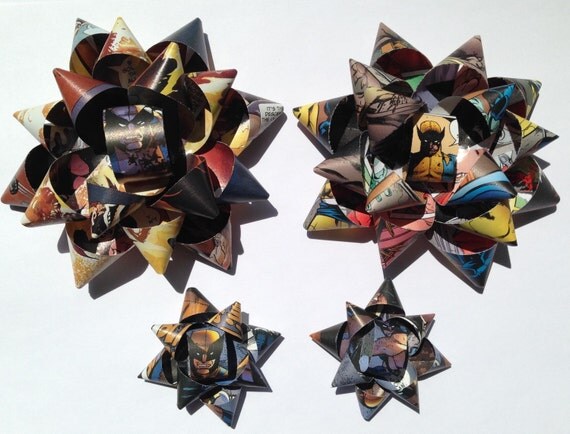 This will float any Marvel lovers boat!
Trust me.
I would definitely suggest going to check out her shop and see the  ponies that she has for sale, as well as the Perler bead magnets and figures, and the mobiles!
There are so many fun avenues to explore in her shop, and it's
definitely worth your time!
LINKS
The Vicness Etsy Shop
Custom Ponies
Perler Bead Figures
Perler Magnets
Mobiles
Hand-Made Gift Wrap
So I really hope that you go check out her shop!
I really want to thank Vic for her kindness, and for being so darn awesome!
So Until Next Time!
Peace, Love, and Glitter!
❤ XOXO ❤