I love summertime, and I love tanning outside, and lazing around in a bikini by the water….and I love bling.
So I decided that I should add some bling to my midriff this summer with some belly rings.
I've always thought that belly rings were really cool, and I was dying to get some for myself, plus I have never spoken about this form of body jewelry before on my blog, so here we go!
I got three belly rings from the shop Sea Coast Jewels and I seriously can't pick a favorite of the three that I received.
~ ~ ~ ~ ~ ~ ~ ~ ~ ~ ~ ~ ~ ~ ~ ~ ~ ~ ~ ~ ~ ~ ~ ~ ~ ~
The first ring is this one.
The charm is made up of three glass stones, and the top pink stone on the charm matches the pink stone in the belly ring! (NOTE: All the belly rings came with a plain silver ball top that unscrews so you can put it in.)
This charm is very lightweight, and I can barely feel it (as is the case with all the charms!)
  The next belly ring is this one…. The main ring has a pink stone in it, and the charm on this one is an adorable arrow with a heart! (This belly ring can also be purchased with a purple stone instead of a pink one!)
The final belly ring is probably my favorite…but maybe not…because I love the other two belly rings as well!!! AUGGGHH! WHY DO THEY ALL HAVE TO BE SO DARN CUTE?!!!
I guess this one is the most summery of the three, and it really taps into my nautical side because, as you can tell, the charm on this one is an anchor and the stone is a pretty blue/green color (I think it'd classify on the site's menu as teal.)
This belly ring comes in an assortment of colors: black, green, orange, pink, purple, red, light blue, royal blue, lilac, and teal. 
Now onto some "unexciting" sizing facts:
*the barbell is 14 gauge
*made of surgical steel to avoid icky allergic reactions
*the anchor belly ring measures 2 inches long
*the arrow/heart belly ring measures 3.25 inches long
* not sure how long the stone one is but it's close to the arrow/heart one in length, so I'd say 3 inches
Now onto how they look when you are wearing them….
If you are wondering why this is such a tiny photo, I am rather self-conscious about showing off my middle, and would like to keep these photos as small as possible while still showing off the size of each belly ring.
I happen to have a small belly button so all rings that I wear look kind of big on me and show more of the bar than might show on other people.
Also excuse the fact that my middle may seem to be three different colors….the sun was being mean as I tried to take these photos (and clearly my workout regime has done nothing for my figure! Haha!)
So I think that these are a really really fun body jewelry option for this summer (and for anytime of the year if you have your belly pierced–though there is a way around that if it isn't pierced…just saying….)
This shop also sells really pretty earrings, bracelets, and necklaces, so go check those out as well!
For example…here is a photo from their site of a sea glass necklace that they have for sale!
(PHOTO CREDS: The following two photos belong to the shop's owner, Samantha!)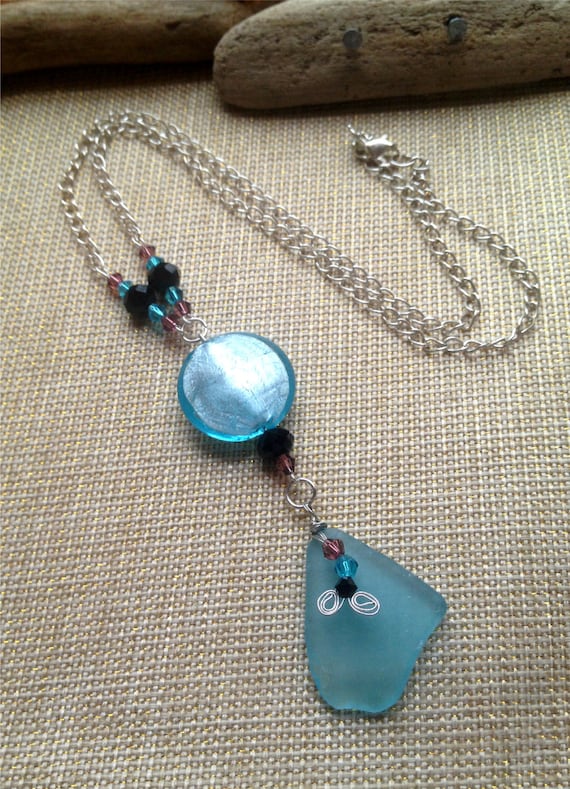 And check out their bracelet sets that they have as well!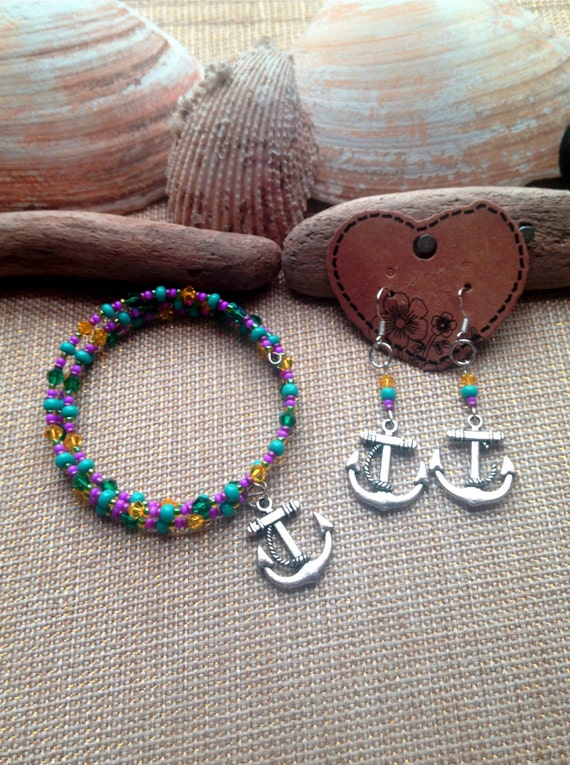 LINKS
Sea Coast Jewels
Anchor Belly Ring
Arrow/Heart Belly Ring
So if you're looking for some gorgeous jewelry for this summer, check out Sea Coast Jewels!:)
Until Next Time!
Peace, Love, and Glitter!
❤ XOXO ❤