Hello my Loveys!
In case you have not noticed recently, but I have been doing more posts that revolve around Disney.
Why you ask?
Well this year commemorates the 60th Anniversary of DisneyLand (it's their Diamond Jubilee) so I figured that I would help celebrate this milestone with some appropriately themed posts on my blog! 
And so far, it has been fun. A lot of fun.
More fun than a flying elephant.
I received a bubble mailer in the mail yesterday from the shop FishesGiveKisses.
This shop sells fairy-tale/Disney inspired jewelry.
A very fascinating line of jewelry that they sell are glow in the dark items, and from the reviews on the shop page, these pieces are very good quality and are some of the shop's best-selling items.
Check out this Glow Shell Mermaid Necklace that is for sale in the shop!
This is so cool.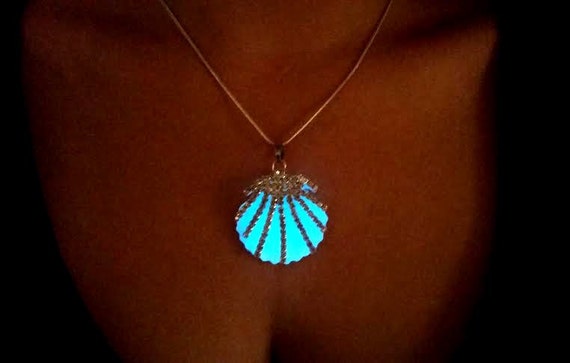 I chose to review a Mickey Mouse shaped necklace with rhinestones, because I absolutely love anything with bling!
(Plus the rhinestones sort of fit into the concept of the Diamond Jubilee!)
The necklace arrived in this little blue dust bag with gold roses on it. I was heavily reminded of Beauty and The Beast for some reason….I think it's because of the roses and the fact that the blue and gold looks like the outfit that the Beast wore in the ballroom scene in the film. 
Seriously. Think about it.
(Am I overthinking this bag or what?)
On to the contents of the bag (because I know that at this point you're all yelling "GET TO THE NECKLACE ALREADY!")
So let's get to the necklace.
It is a silvertone outline of Mickey Mouse's face, and it is encrusted all around the edge with rhinestones. I actually counted the rhinestones, and if I remember correctly, there were 63 rhinestones total.
As for the size of the pendant, it is 2 1/4″ from ear to ear, and is 2″ tall.
The chain that it is on is 14″ long.

Here's a close-up view–the sparkle factor on this piece is MAJOR!
I also wanted to point how that the items from this shop are very affordable.
You will not be spending a small fortune for pretty jewelry.
This necklace is only $8.50, which is a really good deal.
I have seen smaller necklaces with the same concept(rhinestone encrusted shape on a chain) that start at $15.
This is a great deal for anyone who wants to keep their budget intact.
I would also like to point out that a second chain was included, just in case I wanted to make the necklace a little bit longer. I find that to be really considerate of the shop owner to include that! (Thank you Jessica!)


As you can see, there was also a small mickey mouse head that was covered in sequins in the purple dust bag.
I think I am going to glue a magnet onto the back of that little Mickey Mouse and put it on my refrigerator. It also crossed my mind to use fabric glue on it, and add it to a plain black hoodie….I'm not sure which route I will go with this. Maybe I will just glue it to the inside of my blog planner:)
And finally, a selfie. Because that's how I roll when I am featuring am item.  I feel as though it adds a personal touch.
I really love this necklace–it is definitely a favorite! Plus, all of my friends are now begging me for it (I told them that I would have to be dead in order for them to have it.)
I really would suggest that you look into this shop. There are so many items from which to choose, and they are all really pretty, really affordable, and perfect for fairytale and Disney lovers!
LINKS
FishesGiveKisses Shop Page
Mickey Mouse Symbol Rhinestone Necklace
Glow Jewelry Section of the Shop
So I hope that you have enjoyed reading this post and that you will go look into this shop (and maybe get something if you are a Disney fan or know someone who is a Disney fan!)
Until Next Time!
Peace, Love, and Glitter!
❤ XOXO ❤
And remember.
It all started with a mouse.