It is officially June, and in my book, June first is the first day of summer (even though society says that Memorial Day is the first day of summer.)
Now when I think of summer, I think of backyard barbecues, swimming pools, shorts, tanning, flip flips and one specific lawn ornament….
  Okay, that's a harsh representation of the classic  lawn flamingo, but for some reason, whenever I see pink lawn flamingos, I think of summer…
My Mom never put lawn flamingos in our yard when I was growing up. They just weren't her style…but I liked them….so I was excited to kick off summer with a pair of pink flamingo nails from the shop CeliaCyanideShoes.
Check these guys out! Aren't they just too adorable?!
Yes, I named them all. Please don't judge me.
As you can tell, these are some fierce pink stiletto nails that are hand-painted to look just like my favorite lawn ornament!
(They also make me want to play croquet for some reason….)
 I was obviously attracted to these because they are pink and was really happy to receive them in the mail and put them on.
They are a bit on the long side, and I haven't had nails this long in a while, so I am busy relearning how to do things with long nails! If you aren't very handy with long nails, then definitely think about that if you are looking at buying some….
  I've gotten a lot of compliments on them as well, because they are so unique and so cute! I always like it when my nails can make someone smile 🙂
 The shop sells some beautiful heels that are themed with themes like Batman, Labyrinth, Wicked, Alice and Wonderland, and Superman! Here is a pair of Superman themed heels (Photo credit goes to CeliaCyanideShoes!)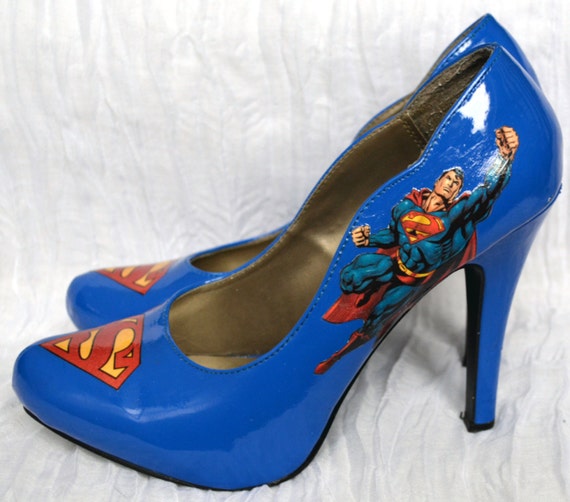 Aren't these cool?? Yup! They sure are!
So if you are in the market for some fun and unique nails, or some fun and unique shoes, this is a great shop to look into!
LINKS
CeliaCyanideShoes Online Shop
CeliaCyanideShoes–Section: NAILS
So I hope you all enjoyee checking out my fun summer nails! I definitely love them! (It's almost like having little friends on my nails….too much? Ok…)
I hope you all are as happy as I am that summer is now here!
Until Next Time!
Peace, Love, and Glitter!
❤ XOXO ❤